FAQ
Rules and NOs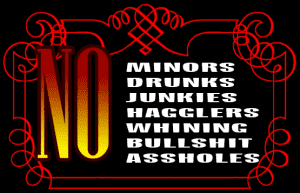 Frequently Asked Questions and Policies
FAQ
Q. How old do you have to be to get tattooed?
A. 18, if you are younger than this, stop being a brat and wait 'til your all grown up.
Q. Do you accept walk-ins
A. Rarely..  we are an appointment only studio.  (although this will change when we hire another artist)
Q. Do you have "books" I can look through for designs?
A. No! we are a full custom shop, your design does not exist yet.. if it does, you are in the wrong shop.
Q. How much does a tattoo cost?
A.   I have no clue!!  See question above, your tattoo does not exist yet.  how can you price something that doesn't exist?
However, we can create a design with your reasonable budget in mind.
Q. Can I contract a disease from a tattoo?
A. Ummm,  Yeah, you can.  its an open wound, we practice sterile and anti-cross contamination proceedures, however
if you roll around with a hooker on Nebraska Ave. afterwards all bets are off.  use common sense and follow our aftercare and you will be fine.
Q. Does it Hurt?
A. I can't believe we still get this question, and if you have to ask you shouldn't get tattooed.
I will think of more later.. but this should hold you for now..
Policies
Appointments and Deposits
To make an appointment you must put down a deposit.
The reason for a deposit is to make sure you are as serious about your tattoo as we are.
Your deposit is a down payment on your tattoo, it will be applied to your last session.
The amount of the deposit is regulated and decided by the artist.
Your deposit is non-refundable, and Non-transferrable.
If you need to cancel, please give us at least 48 hours notice.  If you do, you will not loose your deposit.
you loose your deposit if you are more than 30 minutes late with out a phone call.
If you loose your deposit because of no call/no show,  you must put another deposit down to make another appointment.
Apprenticeships
Don't ask, we don't offer them, the industry is over saturated as it is.  So… if you are not my child by birth, the Answer is NO!